May 30 – June 3, 2022
Dr. George Athanassakos offered a highly sought after five day Seminar on Value Investing and the Search for Value to finance executives, finance professionals, portfolio managers, financial analysts and individual investors seeking knowledge of value creation, valuation and value investing theory and practice.
View list of Seminar participants
Read testimonials from Seminar participants
Guest Speakers
This year's Seminar welcomed two guest speakers: Mr. Francis Chou, Founder and President of Chou Associates Management Inc. in Toronto, ON, Canada was a guest speaker on May 31, 2022. (Video Not Available); and, Mr. Jeffrey D. Stacey, Chairman and Chief Executive Officer of Stacey Muirhead Capital Management in Waterloo, ON, Canada was a guest speaker on June 2, 2022.
View PowerPoint Presentation
Watch Video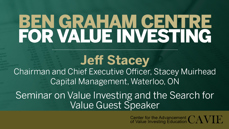 For more information, see Seminars